Congratulations to D. R. Bailey, whose page-turning World War II adventure, A Fool's Errand, is published today!
A Fool's Errand is the second book in the Spitfire Mavericks Thrillers series: action-packed aviation adventures set during the second world war and featuring a team of vigilante pilots.
1941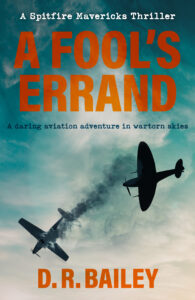 The Battle of Britain is over, and RAF Fighter Command turns its attention to France.
Flying Officer Angus Mackennelly and the rest of 'Maverick' Squadron 696 are engaged in tactics to lure the Luftwaffe into battle.
But Angus has grave misgivings about the orders he has been given, which are justified when he loses a brand-new pilot on their first incursion.
And the squadron is dealt another blow when one of their pilot officers is discovered dead in the hangar.
The inquest rules the death a suicide, but Angus is certain something more sinister has happened.
In between bouts of furious dogfights in the skies, Angus and his good friend Flying Officer Tomas Jezek work tirelessly to investigate the murder.
While they risk their lives fighting a deadly foe, could the real threat be coming from an enemy within? Are the Spitfire Mavericks being targeted by someone who is supposed to be on their side…?