Congratulations to  C. P. Giuliani, whose page-turning Tudor adventure, The Road to Murder, is published today!
England, 1581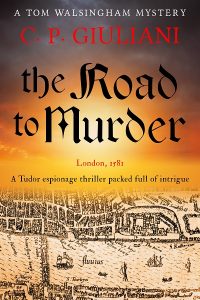 Nineteen-year-old Thomas Walsingham is thrilled to be working as a confidential courier, carrying messages between London and Paris for his illustrious cousin, Queen Elizabeth's spymaster, Sir Francis Walsingham … until everything goes wrong.
Tasked with escorting an English glove-maker to the French Court, Tom is also playing messenger for the Duke of Anjou, Queen Elizabeth's French suitor, as well as carrying confidential instructions to the English Ambassador in Paris.
When French soldiers assault his convoy en route, Tom loses a letter he had sewn into his clothes. And the next morning, the glove-maker is found stabbed to death.
Determined to prove himself, despite failing so disastrously in his mission, Tom pushes on to Paris, but when he gets there, he discovers the glove-maker may not have been who he said he was.
Certain the queen may now be at risk, Tom is determined to report back to Sir Francis, but he cannot afford to wait for official orders.
Who was the glove-maker working for? Why was he killed? Isolated and without a passport, Tom must travel incognito and return to the English court before anyone else ends up dead…