Congratulations to Adele Jordan, whose captivating espionage adventure, The Traitor Queen, is out now!
The Traitor Queen is the fifth book in the Kit Scarlett Tudor Mysteries Series.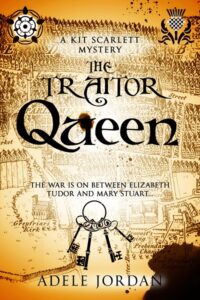 1586
Female espionage agent, Kit Scarlett is stationed at Chartley Castle, where Mary Stuart, Queen of Scots, is under house arrest for plotting against the English Queen Elizabeth.
Kit helps Sir Francis Walsingham's top codebreaker, Thomas Phelippes, as they intercept Mary Stuart's communications with her conspiring supporters.
And when they have the proof that Mary Stuart has sanctioned Queen Elizabeth's assassination, Kit races to deliver the message to Walsingham.
But before they can persuade Queen Elizabeth to sign Mary Stuart's death warrant, the Scottish queen escapes.
And as Kit delves deeper into her mission, she finally discovers answers about her own past that shock her to her core.
With Queen Elizabeth's life now in imminent jeopardy, can Kit find Mary Stuart and bring her to justice?
Even if Kit achieves her task, will she find the London she returns to is no longer the home she once thought it was…?