When did you first start writing? Did a specific event encourage you to start?
In the 1990s. I can't be more specific as I went to several creative writing classes, usually with the same tutors. The class would start out well attended, then people gradually would drop out – usually in winter. Then the following year the funding would change and we'd start up again at a different venue. But I always persevered and about three or four of us went to the same classes, which I enjoyed very much. Finally one tutor suggested I sent off some of my stories to a magazine. The first one was rejected but the editor must have seen something in my writing and made some useful suggestions. So luckily my next one was accepted by Ireland's Own. I still have the cover framed on my wall. It's dated August 1999 and has the picture of a Connemara pony on the front.
How much research do you do?
For Song of the Shuttle I went to Quarry Bank Mill, a working cotton mill near Manchester owned by the National Trust. The volunteer guide on duty was so helpful, explaining how the machines worked, then demonstrating them. He was really patient answering all my questions. From a large second hand book store in South Manchester I was lucky enough to find a book from the television series about the American Civil War shown back in the 1990s. It was packed with information and original photographs which was invaluable to my research. Other books like 'The Hungry Mills' and 'Reveille in Washington' helped enormously and also a map showing the major battles of the war.
For subsequent books I've turned to Victorian history which has always interested me. The internet is invaluable too. Where else could you discover the uniform that an American military hospital orderly wears?
Tell us about where you write / your writing habits.
I've set up office in a small bedroom since my son and daughter have left home. It overlooks the back garden and I can see the small birds bobbing about in the trees. I'm afraid I'm not an organised writer or set time each day for writing. I have a habit of waking up at an unearthly hour with an idea in my head and can't get back to sleep until I've typed it out. I did try to write those ideas down on a pad by the bed but couldn't read my writing in the morning. So I drag on a hairy old dressing gown – and tracky bottoms in winter – and sneak off into my office for an hour or so. Then I slip back into bed and sleep soundly.
What part of the writing process do you find most difficult? Starting, knowing when you've done enough research, the ending?
Most of my stories are written in my head long before they reach the page. Then when I have time I want to get down the information as quickly as possible. Of course I have to go through it all again and edit it. Sometimes I seem to write in Polish!  I'm not keen on editing and don't like rewriting at all.
How real do your characters become and do they ever seem to control their own storyline?
My characters do seem to take on a life of their own and I instinctively know how they will act. This is a very perceptive question as many times my ideas and plots will change when faced with what a character would do.
Do you ever feel guilty about killing off characters or do you relish it?
I have sat and wept when one of my characters died. Normally it's only the baddies that 'get it'. I feel they get what they deserve.
What are you reading right now?
At the moment I'm reading a spy novel by John Le Carre and persevering with it. I get annoyed by the macho attitude of the men though! I have Lamentation by C. J. Sansom waiting in the wings. I love his Shardlake novels.
What is your favourite book? 
My favourite book is Jane Eyre. I've always loved it from being young when I had the Dean and Son version for young readers.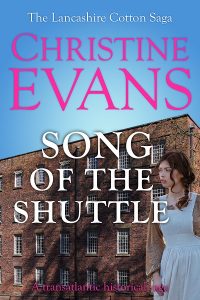 What book do you wish you had written?
Something brilliant like The Book Thief. I've recommended it to so many people and they've all enjoyed it.
Do you love any genres/books that are very different from what you write?
I have very eclectic taste. I really enjoy Terry Pratchett books. Patrick O'Brian's seafaring novels are a favourite and also Lyndsay Davies' Roman detective Falco. Although they are historical novels, they are very different from the romances that I'm writing.
Tell us something surprising about you!
I've had a painting exhibited in Manchester Art gallery. I won a competition where all the art classes round the city sent a painting that was inspired by one of the Gallery's paintings. It was called 'Things to Do' and in one corner featured a cosy armchair, a book and a cup of tea. The rest of the canvas had an ironing board, a dirty frying pan, an un-ironed shirt and lots and lots of socks – black with a different coloured heel. None of the socks matched! The blurb was that I'd rather sit reading than doing all the chores. Along with a certificate I received a bag of art goodies. Unfortunately I don't have time to go to any art classes nowadays.