Congratulations to Keith Moray, whose gripping Scottish mystery, Deep and Deadly, is out now!
Deep and Deadly is the seventh crime thriller in the detective series featuring Inspector Torquil McKinnon: an action-packed police procedural full of suspense.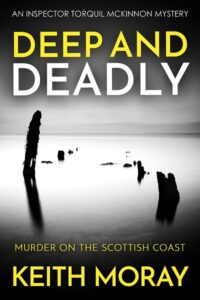 West Uist, Scotland
It's an usually busy day on the remote island of West Uist. The only transport on and off the island is the local ferry, and there is uproar when it is blocked by eco-rights activists, protesting against the shooting of seals by local fishermen.
While dealing with that disturbance, the police are amused to find a celebrity has disembarked from the ferry and is causing a stir among the locals.
But just as the demonstration is peaceably dispersed and actor and singer Declan O'Neil is escorted away from the crowds, Detective Inspector Torquil McKinnon is called to investigate a dead body.
Fisherman Arran MacCondrum, owner of the farm that is being protested against, has been found dead in one of his fish pens, seemingly by suicide.
But with a spate of threatening poison-pen letters making their rounds on the island, it soon becomes clear that Arran's death was not by his own hands.
Was Arran attacked by a protestor? Or was there an ulterior motive?
Torquil must unravel the mystery before anyone else on the island comes to harm…