Congratulations to C. P. Giuliani, whose absorbing espionage adventure, Death in Rheims, is published today!
Death in Rheims is the third book in the Tom Walsingham Mysteries series: spy thrillers set during the Elizabethan era in Tudor Europe.
France, 1585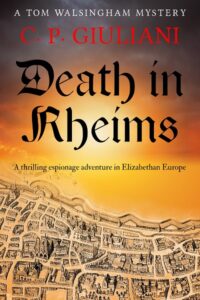 Tom Walsingham has been sent to France by his spymaster cousin, Sir Francis.
One of Sir Francis's French informers has recently died in suspicious circumstances and Tom has been dispatched to investigate the death.
The dead man's daughter is sure her father's death was quite natural – but this doesn't mean there aren't strange circumstances surrounding it.
The informer lived in Rheims, close to a local English college where Catholic exiles are known to train for forbidden priesthood, and Sir Francis's current plant at the college – a fiery young poet named Kit Marley – claims at least one of the young men has been murdered.
With yet another bout of civil war looming over France, and everyone pursuing their own agenda, Tom has his work cut for him, with plenty of aliases, betrayals and lies to disentangle.
And with relations still tense between the French and English, he must be careful not to betray his true identity and end up as the next victim…
Was the English informer targeted? Is there a serial killer at large?
And can Tom prevent any more deaths in Rheims…?