Congratulations to Marilyn Todd, whose gripping historical mystery, Dead Drop, is published today!
Dead Drop is the fourth book in the Julia McAllister Victorian Mystery series: thrilling British detective novels with a courageous woman sleuth at the centre.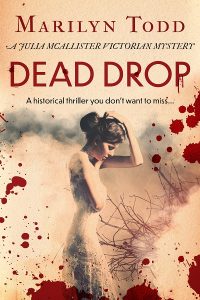 Seeing an easy way to pay off her debts, Julia McAllister takes in three female lodgers from a travelling show.
With musical halls more popular than ever, Buffalo Buck's Mild West is the perfect antidote to the noise and smoke belching out of the factories, and the tide of Julia's fortune quickly turns.
Until one of the three girls is found hanging under a bridge.
Julia doesn't believe it was suicide. Annie had been excited about the future, not depressed.
And when another body is found on the railway line, a distraught widower, inspired by Julia's role as crime scene photographer, asks for her help as the police are refusing to give out any details.
When Julia raises the matter with Detective Inspector John Collingwood, he explains that they're keeping the case close to their chest because the body had ligature marks, showing he'd been chained up. Their fears are that this is just the tip of a particularly nasty iceberg.
Is Annie's death connected to the body on the railway? Can Julia work with Collingwood to solve the mystery?
Or will the secrets they uncover put their lives in grave danger…?