Sapere Books are proud to have sponsored the Crime Writers' Association's Historical Dagger Award, which is for the best historical crime novel set in any period at least 50 years prior to the year in which the prize is presented.
The 2021 shortlist featured domestic poisons, sinister former spies, military occupations and more.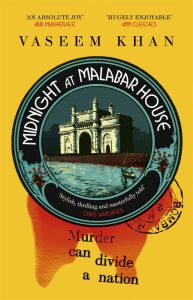 The wonderful Vaseem Khan has now been announced as this year's winner. His winning novel, Midnight at Malabar House, is the first book in his latest historical crime series.
Compelling and cleverly plotted, Midnight at Malabar House opens on New Year's Eve in Bombay, 1949. The first female detective in India, Persis Wadia has been repeatedly overlooked and struggles against a hostile, all-male environment. As a new decade dawns, she stands vigil in the basement of Malabar House, consigned to the midnight shift.
But when an English diplomat is murdered, Persis finds herself on the case of a lifetime. Against the backdrop of social and political turmoil, she teams up with Scotland Yard criminalist Archie Blackfinch to uncover the truth — at any cost…
We would like to send a huge congratulations to Vaseem, and to all of the wonderful authors who were longlisted and shortlisted this year.