Sapere Books are proud to sponsor the Crime Writers' Association's Historical Dagger Award, which is for the best historical crime novel set in any period at least 50 years prior to the year in which the prize is presented.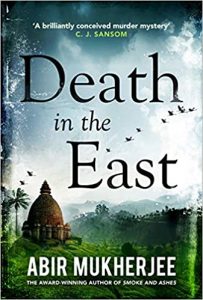 The 2020 shortlist featured eccentric doctors, notorious gangsters, stolen diamonds and much more.
On Thursday night, the fabulous Abir Mukherjee was announced as this year's winner at the Crime Writers' Association's digital awards ceremony. His winning novel, Death in the East, is the fourth instalment in his Wyndham & Banerjee Mysteries Series.
Set in 1920s India, Death in the East follows the continuing adventures of dynamic duo Captain Sam Wyndham and Sergeant Surrender-not Banerjee. Wyndham is haunted by an old case from his early days as a young constable, when his old flame Bessie Drummond was found beaten to death in her own room. Arriving at the ashram of a sainted monk – where he hopes to overcome his opium addiction – Wyndham finds a shadowy figure from his past, a man he believed was long dead. Certain that the man is out for revenge, Wyndham once again calls on Sergeant Banerjee for help. Together, they prepare to take on a sadistic and slippery killer…
We would like to send a huge congratulations to Abir, and to all of the wonderful authors who were longlisted and shortlisted this year.