Seán Gibbons' gritty, heart-pounding thriller, City of Death, is published today.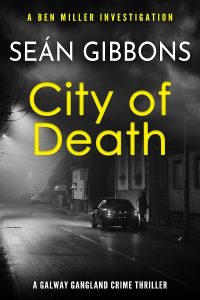 City of Death is the fourth novel in the Ben Miller Crime Thriller series: hardboiled gangland novels set in Galway, Ireland.
Galway, Ireland, 2010
When taxi driver and part-time private investigator Ben Miller finds his friend Meili brutally murdered, he and her friend Qiang go in search of her killer.
Miller soon enlists the help of his friend, Gárda Aaron Dempsey and they find themselves caught up in a war between rival Chinese triads, seeking to wrest control of the city's illegal gambling activities from Superintendent Folan and his allies.
They all become involved in a hunt for a diary in which Meili has been keeping details of the activities of the clients' who pay her for sex, possession of which will give whoever finds it the tools they need to protect themselves at the expense of their rivals.
Matters are complicated by the presence of three men claiming to be either Meili's current or ex-husband.
When one of them is involved in trafficking Meili's daughter from China into the sex-industry in Ireland, rescuing her becomes the priority…