Stephen Taylor is the author of A CANOPY OF STARS, a thrilling historical 19th century saga stretching from the legal courts of Georgian London to the Jewish ghetto in Frankfurt.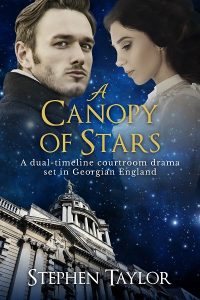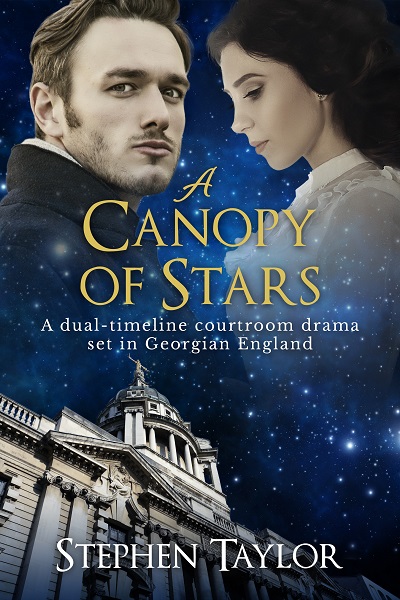 Hi Stephen! Welcome to the Sapere Books blog. Could you tell us a bit about what first got you into writing?
My addiction has been with me for over twenty years now. When I was younger, if somebody told me a good joke, when I retold it it was twice as long, embellished, the story enhanced, the characters fleshed out. With me, it was never just about and Englishmen, an Irishman, and a Scotsman. It was an Englishman in a bowler hat with a monocle, an Irishman in a donkey jacket with a pint of Guinness and a Scotsman in a kilt with a set of bagpipes (and yes I know that this is stereotypical).
Tell us about where you write and your writing habits.
I started by writing during my lunchtime at work, but now I write in my home office. I keep a working week, Monday to Friday and write for two and a half hours a day. I seem to need that discipline.
What part of the writing process do you find most difficult?
Probably research: it's a double edged sword — part good, part tiresome. The rewrites are also tricky, as you can edit forever, endlessly trying to improve what you have written. I aim to stop after five rewrites.
Do your characters ever seem to control their own storyline?
The received wisdom is that you determine your storyline and not let your characters deviate from that. However, after I develop my characters, they tell me where they want to go, what they want to do. I follow them, and my stories are character led. I still have a structure in my mind — A to B, but the characters say how I get there.
Do you find it hard to know when to end a story?
Not usually. I have a prompt to myself that sits just below the line I am typing. It reminds me to keep some control over the characters.  It says: INTRIGUE — CONFLICT — CLIMAX — RESOLUTION. i.e:
Open with a big question or hook: INTRIGUE. Then you have the problems your hero is up against: CONFLICT. This builds to a CLIMAX. This is followed by the RESOLUTION.
What is your favourite book?
If you ask me this next week, you may get a different answer. I would say my favourite book is To Kill a Mockingbird by Harper Lee. My favourite character is Uriah Heep, from David Copperfield. Dickens' image of him is wonderfully unpleasant — he's so slimy.
What book do you wish you had written?
Anything by Norman Mailer. As a writer, he is so far above me. He's much more than a storyteller.
Tell us something surprising about you.
I was brought up in Manchester, but I was born in Yorkshire. My mother traveled back to Yorkshire so that my birth there would give me residential status to play cricket for Yorkshire — nobody ever believes that, but I promise that it's true. Unfortunately, it was a feat that I never achieved, the White Rose County being unappreciative of my cricketing skills.
Preorder A CANOPY OF STARS here!