Patricia Caliskan is the author of two romantic comedies: Awful By Comparison and Girlfriend, Interrupted.
Hi Patricia! Welcome to the Sapere Books blog!
Can you tell us a bit about what first got you into writing?
I wrote stories from about the age of six. I collected stationery, pens and pencils, and spent hours at my miniature desk, making 'books' for the family. Beverley Cleary's Ramona series was a huge inspiration to me as a little girl.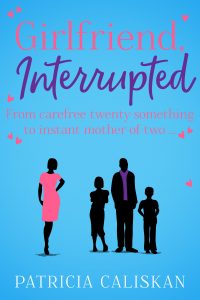 What does your typical 'writer's day' look like?
A typical writing day looks like writing through the night. I've always been slightly nocturnal; that's when I get most of my ideas and can be totally focused. I have a 4 a.m. cut-off and wake up completely zooped to read and edit the work. I have a few places I gravitate towards throughout the house. My latest project is basically happening in the kitchen, so there's been a lot of snack breaks with this one.
I drink coffee on-tap and usually have a playlist on the go. No rituals as such, but candles signify 'writing time'. That's about as ceremonial as I get.
What part of the writing process do you find most difficult?
My challenge seems to be plotting from about three-quarters of the way through to the ending. It's incredibly exciting to start a project, and I know how each story ends – until I begin writing. The characters and storylines naturally evolve, so my plotlines tend to evolve too. It's a bit like using Sat Nav. I know my destination, but don't always take the most straightforward route. 
Do you find it hard to know when to end a story?
Absolutely not! There's nothing like typing 'The End' after I'm 100% satisfied I've tied up every strand of the story, and done the best work I can for the reader. It's the best feeling.
How much research do you do?
There's research involved in every book. Luckily, it's one of the reasons I enjoy the process. The character of Lara in Awful by Comparison was based on reports ahead of the #metoo movement, and Gia Carangi in particular. The subject of step-parenting in Girlfriend, Interrupted was something I personally experienced, but I visited online forums to make the dynamic as relatable as possible. I'm currently learning about the psychological effects of being widowed, and floristry, so you could say it's pretty varied.
How real do your characters become and do they ever seem to control their own storyline?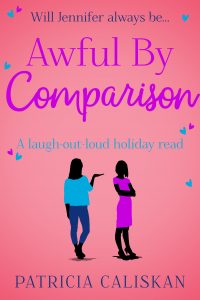 My characters absolutely dictate their fate. Their voices can become very different to how I initially heard them. Listening to certain nuances and spending time with them, they're full of surprises. It's kind of like developing a friendship, really. My understanding of them deepens over the course of the novel.
What are you working on at the moment?
I'm currently working on my third novel. It has an ever-changing title, but I can say with certainty that it's set in the fictitious address of Arkin Avenue, and tells the stories of a great bunch of characters. I hope you're going to love them.
Which book do you wish you had written?
As she's fresh in my mind, The Private Lives of Pippa Lee. It was one of those books which made me happy, simply because the character existed. I thought it said a lot about the shifting roles we occupy throughout our lives.
Tell us something surprising about you!
Duran Duran have been my favourite band for nearly 35 years. If you take another look, you'll find them mentioned in all of my books so far!