Hi Michael! Welcome to the Sapere Books blog!
We are very excited to be publishing your HUNTER KERR detective series. Could you tell us a bit about what first got you into writing?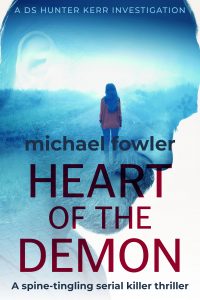 I started at about the age of twelve, and it was a science fiction apocalyptic story, written in two exercise books from Woolworths.  I had an uncle, who was not only an avid reader but had a wonderful imagination, and as a teenager, I would spend many autumn and winter nights with him developing characters and drafting first chapters in front of a glowing coal fire with just a single table lamp burning. It made for a wonderful atmosphere and it was my uncle who introduced me to crime fiction.
Where and how do you like to write?
I have a study set out with everything I need. I start my day walking my dog on fields at the back of my home, and as I'm walking, I am working through what I will be writing when I return. I then hammer away at my keyboard for about five hours, doing some refining along the way, and then take my dog out for his second walk, reflect on the piece I have just written and do a mental edit. I'll then return and make a few adjustments.
What part of the writing process do you find most difficult?
I am a constructive plotter, and so work out a beginning and end, and build in significant events in the middle, to drive the story. In my study I have a huge whiteboard, and I 'run' my stories as if they were a major incident (from my detective days), with photographs, timelines, and spider lines connecting characters to story, so I can keep track.
How much research do you normally do before you start writing?
Not a great deal. Because my crime novels are based very much on my previous career as a detective, I am drawing on those experiences.
How real do your characters become?
Many of my characters are based on people I know or have met, so it's quite easy for them to own their story.
Do you ever feel guilty about killing off your characters?
Not the villains. As I have said above, they are generally based on the villains I have come across during my career and so I find bumping them off quite cathartic.  However, I have just killed off one of my leading detectives in my Hunter Kerr series and I had a great deal of angst about doing so.
What are you working on at the moment?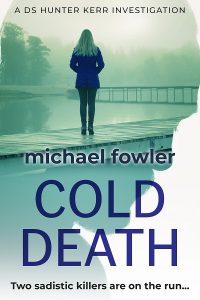 I am working on a new character who is a forensic psychologist in a psychological thriller, which is a huge shift for me as my previous novels are police procedurals.
What is your favourite book?
I am such an avid reader I don't have a favourite book or character. However, there are a few recent reads that stand out among others, and they are: Into the Darkest Corner by Elizabeth Haynes; The Dry by Jane Harper; Her Every Fear by Peter Swanson; Fall from Grace by Tim Weaver, plus The Bone Field by Simon Kernick.
Which book do you wish you had written?
The Bone Collector by Jeffery Deaver – I love the unique element of a paraplegic crime scene examiner detecting a crime from his bed.
Tell us something surprising about you!
I am also an established artist. I have exhibited in London's Mall Gallery with The Society of Marine Artists, The Society of Oil Painters and the British Federation of Artists. In 2009 I was awarded the SAA Professional Artist of the Year.
Michael Fowler is the author of the DS HUNTER KERR INVESTIGATIONS series.  
Click here to order HEART OF THE DEMON – the first book in the series – now!
COLD DEATH – the second book in the series – is available to pre-order.