When did you first start writing? Did a specific event encourage you to start?
I first realised how much I enjoyed writing when I was about seven years old. I wrote and illustrated a story about a dog's crazy adventures and then won a competition with it at my local library. That success gave me the confidence to believe I had found something I was really good at, and I haven't stopped writing since. I no longer illustrate my work though!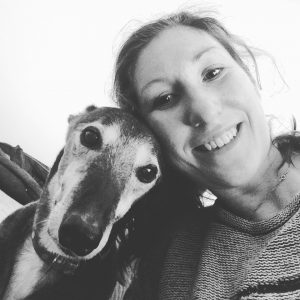 How much research do you do?
I don't do any research initially. I write my first draft as quickly as I can, without looking back. I'll then make notes during my second draft, listing any topics that I need to look into in order to make sure the story is believable. Luckily the internet exists, so it's usually not too difficult to research any subject! It is also useful to talk to people who are involved in the fields of work that you're writing about.
Tell us about where you write / your writing habits.
I write wherever and whenever I can. I have little kids so sometimes it can be difficult to find the quiet time that I need. This does mean that the time I do find is really valuable, and I make the most of it. In an ideal world I would have my own office and an endless supply of coffee and baked goods to help me write. Maybe one day!
How real do your characters become and do they ever seem to control their own storyline?
I definitely think of my characters as real people. I feel a responsibility to tell their stories correctly. While I wouldn't say that they control their own story lines, I do know when I write something that doesn't feel right for the character, and I have to go back and fix it. Sometimes when I am writing dialogue for characters it flows naturally onto the page, almost as if I am listening in on their conversation.
Do you ever feel guilty about killing off characters or do you relish it?
I don't like killing characters off; even characters who I'm not very fond of. One of the main characters in Running in Circles died originally. It never felt right, but for a long time I thought that it was essential to the storyline. Eventually I realised that they didn't have to die, and I actually think the novel works better for it.
Do you find it hard to know when to end a story?
Yes! I think the ending of a story is the hardest part. There are always so many plot tangles to tie up. Often, I think I'm finished several times before I actually am. It's very difficult to end on the right note.
What are you working on?
I am working on a follow up to Running in Circles. Lucy and Steve are investigating again, but this time they are on the north coast of Devon. I'm still in the fairly early stages of a first draft, but so far they are looking into the disappearance of a pop star.
Do you love any genres/books that are very different from what you write?
I enjoy reading science fiction books. Perhaps one day I'll try to write one. I don't think they're considered very mainstream or cool, unlike sci fi films which often do well. My favourite sci fi writer is Philip K Dick. I also like some of Michael Crichton's books. Recently I read Dr Adder by K W Jeter, which had some pretty strong Philip K Dick vibes. I'm reading American Gods by Neil Gaiman at the moment which has some sci fi elements to it, although it probably doesn't classify. It's a hard book to categorise! I'm really enjoying it.
Running In Circles is available on Amazon now!