Congratulations to David Field, whose thrilling historical saga, All That Glitters, is published today!
All That Glitters is the final instalment of The Australian Saga Series, set in the eighteenth and nineteenth centuries.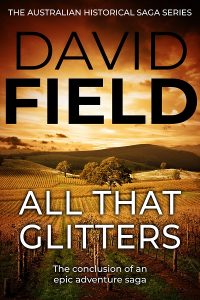 Lawyer Jack Bradbury is called upon to travel to the newly established Colony of Victoria to defend a man wrongly accused of attempted murder during a confrontation between the authorities and a group of gold prospectors.
Following his success he's recruited by the miners' leader to assist them in their battles against the colonial government and is joined in his new home by his wife and children.
But Jack and his family soon find themselves caught up in the affairs of the Kelly family whose black sheep Edward, known to everyone as 'Ned', courts trouble wherever he goes.
Their lives are about to be disrupted and sent down avenues they had never anticipated…