When I wrote A Shadowed Livery, it didn't occur to me that Inspector James Given would spawn a series, so I happily scribbled away with no thought of the future. But the series developed, and by three-quarters of the way through the third novel I was trying to think of ways of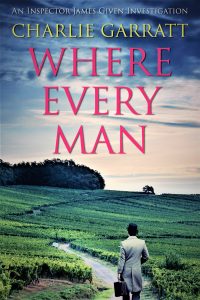 killing him off, so I could move on to other projects. I'm not unusual in this. Conan Doyle famously had Holmes plunge from the Reichenbach Falls, only to re-emerge alive in a later story, and virtually all of our favourite Game of Thrones characters met their deaths before the end. However, I had a slightly more difficult problem than those. My series is written in first person, from James's point of view, so how could he tell the stories if he were dead? It has been done, but I didn't like it as a device.
The simple answer is he didn't die, and I'm still working out how he might.
As a result, when I finished A Patient Man, I was on the lookout for ideas for the next in the series when a story arose on the Facebook page for my local area. The posts said a man with a bicycle had been found dead in the River Severn, under a bridge about a mile from my home. It turned out not to be true and, if it were, I probably wouldn't have written about it. But it was such a bizarre image, not just the body in the water, but the bicycle with him, I knew there had to be a story there. The old 'what if?' kicked in, and Where Every Man was underway.
In the first three novels, James Given is living in Kenilworth, Warwickshire, and I could have moved him close to where I live in Shropshire for the new one, but at the end of A Patient Man he was contemplating a move to France. I've always wanted to live there, so why not take James instead? There were, however, some practical considerations, not least of which were that at the time of the action the Second World War had begun, German forces were on the French border, James is Jewish and the ferries had been commandeered for military service.
Despite these difficulties, James and his wife make it to Brittany, with the help of an acquaintance, to settle into a life of country air, good food and new friends. But that wouldn't necessarily have made for a good story. When the local librarian is found dead in the river, with her bicycle by her side, things become a lot more interesting.
Where Every Man is the fourth James Given novel and is due for release on 6th October.
Click here to pre-order Where Every Man
Click here to find out more about the Inspector James Given series