Ronald Healiss is the author of ARCTIC RESCUE: A MEMOIR OF THE TRAGIC SINKING OF HMS GLORIOUS. For Remembrance Day, his son, Doug, shares some memories of his father along with a poem Ronald wrote towards the end of his life.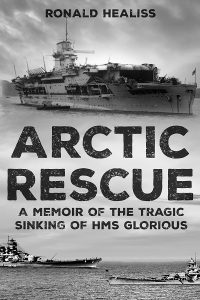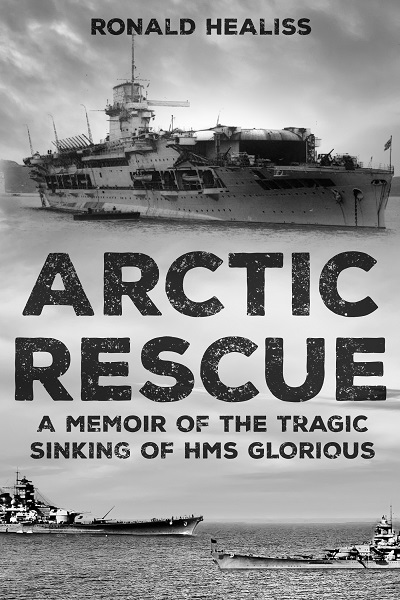 Passers By
We are only passers by — through this world of sorrow
Here today a little while and gone tomorrow
Only once we come this way
We can't come back
Let us make this world a little brighter
Scattering our seeds of friendship in the wayside grass
Some day they may bloom and cheer some poor pilgrim with a heavy load
Of doubt and fear
Life is just a journey, doesn't it seem madness
The envy and enmity, the sorrow and the sadness
All the world's great wealth for which men fight and kill and lie … is it worth it
when you think…
we are only passers by
Ronald Healiss wrote Passers By just a day or two before he passed away on 25th December 1980 (yes, at noon on Christmas Day! His Liverpudlian humour would no doubt have led him to think it was nice timing!). Ronald had been one the few survivors of the most tragic events of World War Two, the sinking of HMS Glorious and her two escorting destroyers, Acasta and Ardent, which cost the lives over 1,500 men.
Although he managed to record his memories of this horrific ordeal in his book, ARCTIC RESCUE, he rarely talked about his experiences and could never be found on Remembrance Sunday while other members of the family watched the commemoration at the Cenotaph on television.
In the years after his death, Passers By, which was dedicated to the deceased crew of the three ships, has been read out at a number of Remembrance Services held by the HMS Glorious, Ardent & Acasta Association at HMS Drake, Plymouth, and is being shared with you now to commemorate the lives that were lost.
We will remember them.