Congratulations to Charlie Garratt, whose gripping historical mystery, A Malignant Death, is published today!
June, 1940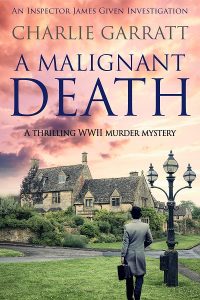 With most of Europe now in the brutal grip of the Second World War, James Given and his wife, Rachel, have been forced to give up their dream life in France to return to England.
Still haunted by his past cases, James has no intention of resuming his role as a detective in the police force. However, when his ex-boss Superintendent Henry Dyer asks him to investigate the theft of some sensitive military blueprints, James reluctantly agrees to help.
However, things take a turn for the worse when Henry goes missing. Fearing for his friend's life, James feels compelled to search for him.
With a long history in the force, Henry had plenty of opportunities to make enemies. As James digs further, it becomes apparent that he may have had something to hide.
And though James has vowed to leave behind the danger and violence of his old life, the pull of an unsolved mystery soon proves too strong to ignore…