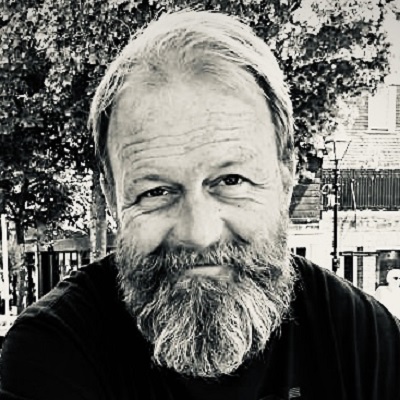 Gideon was born in Fiji but schooled in England. His literary career began inauspiciously, when at a young age he was persuaded to write his elder brother's entry to an inter-school poetry competition. To the intense embarrassment of both, the poem won first prize, and there were cringe-worthy scenes at the prize-giving; this was barely emolliated by a small cash award, which was fiercely contested between the brothers. Since then, Gideon has written on and off, whenever life has allowed.
Gideon left school early to become a club DJ around Europe and then in London, while staggering into film school during daylight hours. Following various false starts as a screenwriter and story analyst in the film business in London and Los Angeles, he ended up running part of a small publishing company in Notting Hill for almost 20 years.
After finding that an unhealthy number of his screenplays were destined to reside in a dusty bottom drawer, Gideon turned to novel writing. Gideon's debut novel, Drake's War, is soon to be released by Sapere Books.
Coming Soon
Drake's War: It's May 1940. The Allies are at a standoff with Hitler's Germany. All is quiet in the so-called Phoney War.
Second Lieutenant Jack Drake, until recently an army barracks schoolmaster, finds himself roped into a covert reconnaissance trip into no-man's land. But when the German panzers burst unexpectedly across the border, Drake's commanding officer is killed, leaving him in charge, with no orders, just a bloodstained notebook filled with numbers – and a mysterious sketch of a raven.
As the Allied defences crumble before the power of the Blitzkrieg, Drake must stay alive long enough to discover what the raven means – and why the secret is so vital to the outcome of the war…